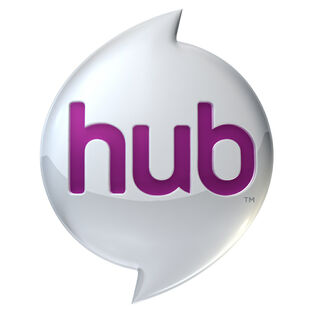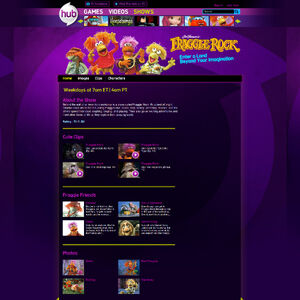 The Hub Network was a cable network jointly owned by Hasbro and Discovery Communications. It launched on October 10, 2010, replacing the Discovery Kids channel. Margaret Loesch served as The Hub's president and CEO.
In May 2010, The Hub announced that reruns of Fraggle Rock would be among the network's inaugural programming, alongside various new and classic series, including many based on Hasbro properties.[1]
The Hub should not be confused with The HUB, the former name of HIP, or Henson Independent Properties, (a third-party licensing division of The Jim Henson Company).
For San Diego Comic-Con in 2010, The Hub and The Jim Henson Company organized a small Fraggle Rock exhibit at the "The Hub TV Experience" located inside the San Diego Marriott. Karen Prell and Red Fraggle appeared at the exhibit on July 24, 2010 to promote Fraggle Rock's upcoming run on the network, with four sing-alongs of "Fraggle Rock Rock", alternating with four autograph sessions throughout the day.
The Hub also had an official Fraggle Rock webpage. A noticeable goof (at least to fans) was the fact that Junior Gorg's page did not depict Junior, but Gunge. The picture had since been replaced.
Other Henson-related broadcasts on The Hub included:
On November 27, 2010, The Hub aired a Muppet movie marathon consisting of The Muppets Take Manhattan, Muppet Treasure Island, Muppets from Space and The Muppet Christmas Carol for Thanksgiving weekend.
Since June 1, 2012, The Hub discontinued airing Fraggle Rock regularly, although its page on The Hub's website was still accessible. To coincide with the show's 30th anniversary, on April 21, 2013 the channel aired "The Fraggle Rock-A-Thon", a three-hour marathon of Fraggle Rock episodes.[2] Red (Karen Prell) and Gobo (John Tartaglia)[3] appeared in new promotional spots for the marathon. Fraggle Rock episodes briefly returned to The Hub during June of 2013 and later aired on Sunday and Monday mornings at 5:00 AM EST for the remainder of the channel's run.
In September 2014, it was announced that Hasbro would alter its partnership with Discovery Communications, and as a result, the Hub Network was replaced by Discovery Family on October 13th. However, Fraggle Rock was still available on Discovery Family's on demand service until 2015.
San Diego Comic-Con 2010
Sources
↑ "The Hub Heads into Advertiser Upfront with Wave of New Program Announcements". Discovery Communications press release, May 17, 2010.
External links