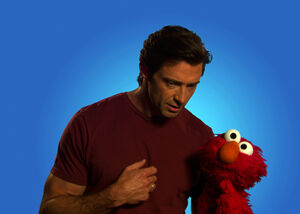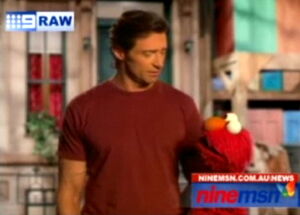 Hugh Jackman (b. 1968) is an Australian actor best known for playing Wolverine in a series of Marvel Comics X-Men films. He is also a musical theater performer who won a Tony Award for his role in the Broadway musical The Boy from Oz.
In 2009, Jackman recorded a Public Service Announcement with Elmo on the set of Sesame Street for Australian television. The PSA discussed the bushfires which devastated the state of Victoria in early February, destroying over 2,000 homes and killing 173 people. In the PSA, Elmo and Jackman talk about how scared and sad they were seeing the films of the bushfires on television, and they comfort each other with a big hug.
The PSA was recorded while Jackman was on the set filming a Word of the Day appearance for Season 40.
Hugh's opening number song from the 81st Annual Academy Awards won Outstanding Original Music And Lyrics at the 61st Annual Primetime Emmy Awards, versus "I Wish I Could Be Santa Claus", a song from A Muppets Christmas: Letters to Santa.
In 2011, a PSA featuring Hugh Jackman and Elmo was submitted to Australian television channel ABC. The station rejected it, saying that it "did not meet its standards". Jackman's actress wife Deborra-Lee Furness commented that: "I had to fight for three years to get that played on the ABC. The head of the ABC told me that he didn't think it was appropriate to talk to children about adoption. If they think it's a problem, my God, what chance do these kids have of being included and of being understood? It's ignorance and fear. It's part of their journey, but it doesn't define who they are."[1]
Sources
External links