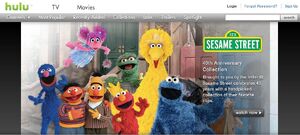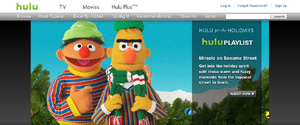 Hulu is a subscription video on demand service that offers commercial supported streaming video of TV shows and movies officially released by networks and studios. Hulu was originally established as a joint venture between 20th Century Fox and Comcast's NBC. The Walt Disney Company has become the primary stakeholder with their 2019 acquisition of Fox.
In October 2008, Sesame Workshop launched their own Sesame Street Hulu channel featuring over 100 video clips from the series[1] In December 2008, NBC released their television special A Muppets Christmas: Letters to Santa on Hulu for a limited time following the television broadcast premiere; and in January 2009, Columbia Pictures made the film Muppets from Space available for viewing on Hulu.
In July 2009, Sesame Workshop started a Hulu page for the original version of The Electric Company.
In November 2009, Hulu celebrated Sesame Street's 40th Anniversary by adding a collection of clips apparently hand-picked by the Sesame Street staff.
On July 27, 2013, Hulu's official Tumblr linked to "The Frogs in the Glen" in celebration of "National Bagpipe Day."[2]
Muppet/Henson Programs on Hulu
As of 2019, Sesame Street (including select episodes from seasons 35 through 40) and the Hulu original series The Doozers are currently available for streaming. The following titles were also available for a time:
References
Sources
External links