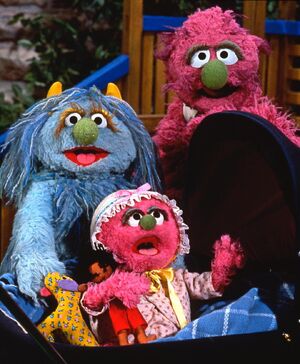 Humphrey is the slow-witted, but loving husband of Ingrid and proud father of Baby Natasha who first appeared in season 22 of Sesame Street in Episode 2851. He made minor recurring appearances in seasons 23 and 24, referred to only as "Natasha's father."
In season 25, his role became more fleshed out. He was finally given a name and a wife. With addition of the Around the Corner area, the two were made employees of the Furry Arms Hotel. In Episode 3623, it was established that Humphrey started out as a lowly bellhop in the hotel, where he and Ingrid met, fell in love and got married. The episode also establishes his full name as Humphrey J. Monster.
When the "Around the Corner" area was dropped for season 30, Humphrey and Ingrid continued to make recurring appearances through 2006. Humphrey also appears in The Not-Too-Late Show with Elmo as an audience member.
Humphrey is named after Humphrey Bogart, with his wife named after Bogart's Casablanca co-star, Ingrid Bergman.[cite]
Filmography
Episodic appearances
Book appearances
See also