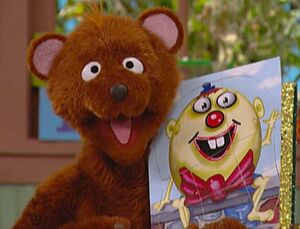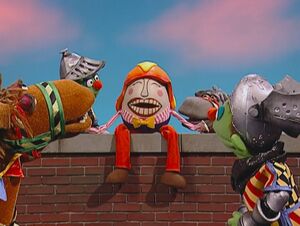 Humpty Dumpty is one of the best known nursery rhymes. First published in 1803, it is thought that the original poem could have originated from the term "humpty dumpty," which was both a drink of brandy boiled with ale, or a short clumsy person. Typically portrayed as an egg, the character is not specifically referred to as such in the original text.
"Humpty Dumpty sat on a wall, Humpty Dumpty had a great fall. All the king's horses and all the king's men couldn't put Humpty together again."
One of the most famous depictions of the poem appears in Lewis Carroll's Through the Looking Glass, where the egg discusses semantics with Alice. L. Frank Baum included the egg in his 1901 book Mother Goose in Prose, and the motif of "All the King's Horses" has been used in popular music, including songs by both The Monkees and Aretha Franklin.
Adaptations
Recordings
References
In Hey Cinderella!, King Goshposh calls for all the king's horses and all the king's men to put Cinderella's glass slipper together again. After two weeks of work, they prove to be unsuccessful. The King chalks their failure up to the horses - "They just seemed to gum things up," he notes.
Connections
Community content is available under
CC-BY-SA
unless otherwise noted.