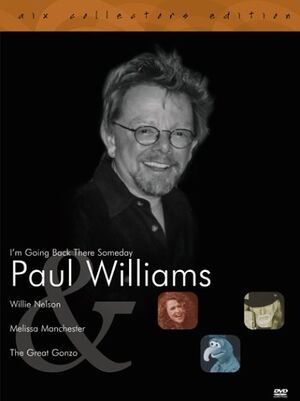 I'm Going Back There Someday is a two-disc collector's edition DVD, released by AIX Records in 2005, with 3 hours of material in CD+DVD-audio and DVD-video formats. It features live performances by Paul Williams of his favorite songs and greatest hits, bonus footage, and interviews. Williams is joined by several celebrity friends -- including Gonzo.
The DVD features two Muppet songs that Williams wrote. The DVD opens with the song "Rainbow Connection," performed by Paul Williams and Willie Nelson, and concludes with the song (and inspiration for the DVD title) "I'm Going to Go Back There Someday," performed by Paul Williams and Gonzo.
During the introduction to "I'm Going to Go Back There Someday," Gonzo recalls his unusual way of getting to the auditorium (via UPS) and the various "alterations" he has had done over the years. In the behind-the-scenes extras, Paul Williams mentions his work with the Muppets, talks about working with Jim Henson and the impact Henson had on his life, and even mentions his performance during The Muppet Show Live at MuppetFest.
Gonzo appears on the cover of the DVD, and the inside art and lyric book are also sprinkled with pictures of Gonzo and Dave Goelz with Paul Williams.
The DVD set also features a somewhat extensive biography of Dave Goelz which talks about his life, career, and upcoming projects.
Some of the additional footage on the disc includes clips of Gonzo meeting Willie Nelson, Gonzo's wardrobe, band members talking about Gonzo, and a comical Surround Sound Check with Gonzo (complete with chickens and other sounds).
External links
Community content is available under
CC-BY-SA
unless otherwise noted.