Written by
Cole Porter
Date
1936
Source
"Born to Dance" (movie)
Publisher
Chappell & Co. Inc.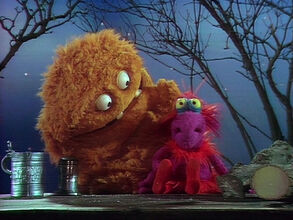 "I've Got You Under My Skin" is a classic Cole Porter song, considered a signature number for Frank Sinatra.
Sam and Friends
One of the surviving episodes of Sam and Friends.
Muppets: Kermit, Hank and Frank, Icky Gunk (wearing a woman's wig) Description: Lipsynching to a comedy record by Stan Freberg, Kermit messes up the song "I've Got You Under My Skin", with his backup choir repeating everything he sings. This episode was broadcast in color.
The Muppet Show
In The Muppet Show episode 119, Behemoth eats Shakey Sanchez and they then sang this number, with Shakey still alive in Behemoth's mouth.
Publications
This indelible image was included on the back cover of The Muppet Show Diary 1979.
Releases
Video