Released
2014
Duration
86 minutes
Director
Dave LaMattina & Chad Walker
Written by
Dave LaMattina
Music
Joshua Johnson
Studio
Copper Pot Pictures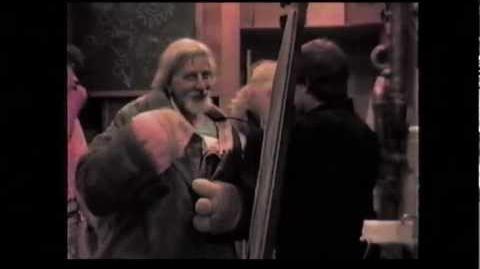 I Am Big Bird: The Caroll Spinney Story is a feature-length documentary about Caroll Spinney, the original Muppeteer behind Big Bird and Oscar the Grouch on Sesame Street. The documentary is produced by Copper Pot Pictures, with founders Dave LaMattina, Chad Walker and Clay Frost as the filmmakers.
The project was first announced in March of 2012, and a Kickstarter campaign was launched and successfully funded that summer. The film was completed by mid-January 2014,[1] and had its world premiere at the Hot Docs Festival in Toronto, Canada on April 27, 2014. The film's U.S. premiere was held at the Montclair Film Festival in New Jersey on May 3, 2014.
In October, it was announced that Tribeca Film had acquired the U.S. distribution rights.[2] The film was released through video-on-demand services on May 5, 2015 and theatrically on May 6. The film was released on DVD on August 11, 2015.
Official description
"I AM BIG BIRD is a feature-length documentary about Caroll Spinney, who has been Sesame Street's Big Bird and Oscar the Grouch since 1969… and at 80 years old, he has no intention of stopping.

Think you know everything there is to know about Sesame Street? You don't. You might know that Frank Oz turned down an offer to play Big Bird, but you probably don't know that until a last minute change of heart by NASA, Big Bird was supposed to go to space aboard The Challenger. Or you may know that Oscar the Grouch got his voice from a cantankerous cabbie, but you'd be surprised to learn that a fire in his trash can almost led to Caroll's untimely demise.

Caroll's stories are the stuff of legend. He has been a constant presence in our lives for over 40 years, his path weaving through American history like that of Forrest Gump. His time inside the Bird has taught him about the world and about himself. I AM BIG BIRD will peel away the instances in his life that inspired his creation of characters that have influenced generations of children. And, as the yellow feathers give way to grey hair, it is the man, not the Muppet, who will steal your heart."
Credits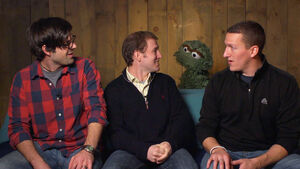 Interviewees
Caroll Spinney, Debra Spinney, J Milligan, Sonia Manzano, Emilio Delgado, Bob McGrath, Lorretta Long, Joan Ganz Cooney, Norman Stiles, Carol-Lynn Parente, Ouyang Lianzi, Frank Oz, Matt Vogel, Jane Henson, Michael Davis, Judy Valentine, Jerry Nelson, Lara MacLean, Laurent Linn, Michael Schupbach, Cheryl Henson, Victor DiNapoli, Melissa Spinney, Benjamin Spinney, Jessica Spinney, Martin G. Baker, Frank Avruch.[3][4][5][6][7][8]
Screenings
Video releases
The commercial DVD release contains the film with no special features. A Blu-ray disc, released as an exclusive reward to Kickstarter backers, contains a number of extra bonus features:
Some of the Blu-ray features were uploaded to the Copper Pot Pictures' copperpotpics YouTube and Vimeo channels, which also shared some videos not included on any other release.
See also
External links
Sources
Community content is available under
CC-BY-SA
unless otherwise noted.