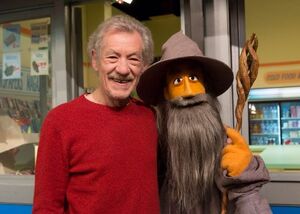 Sir Ian McKellen (b. 1939) is an actor from Lancashire, England. Although he's had a long and distinguished stage career (often in Shakespearean roles), he is best known to mainstream movie audiences for his roles in The Lord of the Rings (as Gandalf) and X-Men movies (as Magneto).
In Sesame Street season 45, McKellen appeared with Cookie Monster in a Word of the Day segment on the word "resist", and he was one of the celebrity cameos in the song, "Raise Your Hand Up High". He also appeared in a Sesame Street Vine, dated December 10, 2013, with a Muppet version of his Gandalf character from The Lord of the Rings. In a spoof of a scene from The Fellowship of the Ring, "Gandalf" refuses to let McKellen pass, until he says "Please." Upon being allowed into Hooper's Store, McKellen thanks him, and passes.
McKellen's other film credits include an acclaimed turn as the title character in Richard III (1995, which he also helped adapt), Gods and Monsters (as Frankenstein director James Whale), and The Da Vinci Code. Television includes many Shakespeare and Dickens adaptations (including both a 1966 serial David Copperfield, as David, and a 1999 version as wicked schoolmaster Creakle) and other classical works. He played Number 2 in the 2009 remake of The Prisoner, and guest starred on popular series like The Simpsons, Doctor Who, Extras, and Saturday Night Live.
Community content is available under
CC-BY-SA
unless otherwise noted.