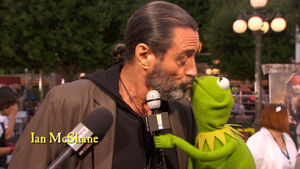 Ian McShane (b. 1942) is a British film and television actor who became best known in the U.S. as Al Swearengen on the HBO Western series Deadwood. In 2011, he was approached by Kermit the Frog at the world premiere at Disneyland of Pirates of the Carribbean: On Stranger Tides (in which McShane plays Blackbeard). The pair briefly locked lips.
On British television, McShane starred as the antique dealing detective Lovejoy from 1986 until 1994, in addition to lead and guest starring roles stretching to the 1960s (notably as Heathcliff in the 1967 Wuthering Heights miniseries). On US TV, he appeared in the famous miniseries Roots and War and Remembrance, as well as a recurring role on Dallas (as Don Lockwood) and guest spots on Miami Vice, Columbo, The West Wing, and the 2003 version of The Twilight Zone.
Film credits include If It's Tuesday, This Must Be Belgium (1969) and Agatha Christie's Ordeal by Innocence (1985), plus later turns in Sexy Beast and Woody Allen's Scoop. He has lent his voice to characters in Shrek the Third, Coraline, Kung Fu Panda, and The Golden Compass.
External links
Community content is available under
CC-BY-SA
unless otherwise noted.