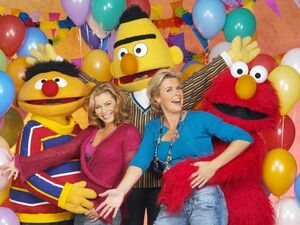 Iedereen Maakt Muziek was a Sesamstraat Live show which premiered in 2005. This was a translated version of the 2001 Sesame Street Live show Everyone Makes Music (later Elmo Makes Music).
When Jenny, a new music teacher, moves to Sesame Street, she finds that her truck full of instruments is missing. Elmo, Neef Jan, Ernie and the gang decide to make instruments for their new friend. The show's songs include "The Hustle," "Rockin' Robin," and "Dance to the Music."
From 21 December 2005 - 26 February 2006, this show was dubbed and performed in The Netherlands for Sesamstraat's 30th anniversary. Iedereen maakt muziek in Sesamstraat was the second Sesamstraat Live show (following Als ik later groot ben in 2001).
A walkaround puppet of Pino made a couple of introductions before the show and after intermission, and Honk, Bang, Whistle and Crash was cut from the show and replaced by The Monster Club House. This live show introduced the Monster Club House and Elmo's World to a Dutch audience, the latter of which would become a recurring segment on Sesamstraat.
Musical star Antje Monteiro and TV show host Irene Moors shared the same role.
Cast
Performing cast
Crew
VEE Corporation, producer
External links