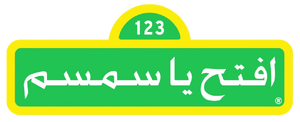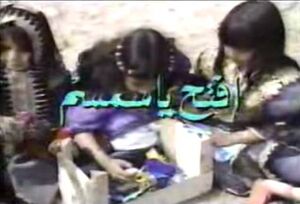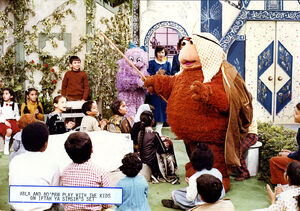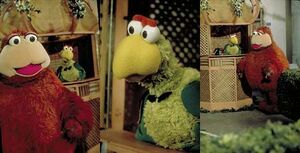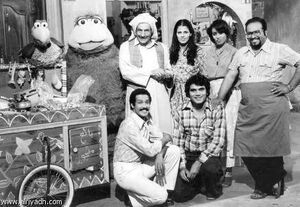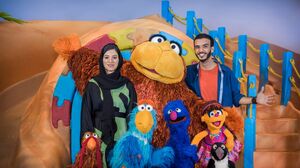 Iftah Ya Simsim (Arabic: افتح يا سمسم) is the Arabic co-production of Sesame Street. The series debuted in Kuwait in the fall of 1979, and was the first Sesame co-production in Arabic. There were 130 half-hour episodes produced and broadcast on a weekday basis in various Arabic countries, before it returned to TV in 2015.
The original show featured Nu'man, a full-body camel, Malsun, the (originally yellow-green) parrot, Yaqut, a female lavender monster with colorful bumps on her head and a long nose, and Abla, a full-body cat. For the show's 2015 revival, Yaqut and Abla were dropped, and yellow monster girl Shams was introduced, along with Gargur (Grover) and several Anything Muppets, camels, cows, chickens, penguins and other birds that serve as side-characters.
The show's title means "Open Sesame," but the neighborhood itself in the original 1979 show was called Shari' 'lshrin (translated as "Twentieth Street"). Key locations included a juice stand Khalil's Refreshments, located at No. 8, and Hisham's Shop, at No. 4, which sells newspapers. The large house on No. 3 is the home of Hamad the engineer and his wife, Fatima the teacher. Their next-door neighbor is Laila the nurse, and beyond is a small park. The park contains a playground, fountain, and garden, and attracts the local children. The grandfatherly peddler Abdullah plies his trade there, selling toys, books, and games from his pushcart and regaling the kids with stories.[1]
The Arab states of the Persian Gulf Joint Program Production Institution bought the co-production rights for a nine-year period in 1977. The Children's Television Workshop provided technical assistance, research, and provided a consulting producer. As with other co-productions, CTW also supplied Muppet sketches, cartoons, and film inserts, which were then selected and dubbed into Arabic. The studio "street" scenes were taped between May and December 1978. Although produced in Kuwait, much like the original version of Plaza Sésamo, the series was intended for the entire Arab-speaking world, and the cast included a mixture of Kuwaitis, Saudi Arabians, Iraquis, and children from twelve different Arab countries, including Algeria.
In 1990, during the Persian Gulf War, Iraqi forces invading Kuwait captured videotapes of the series and the Nu'man costume and brought them back to Iraq before being driven out by US forces. In 2003, Iraq was invaded by US forces but they have never been able to find the videotapes nor the Nu'man costume. To this day, the video tapes and the Nu'man costume remain unrecovered.[2]
2015 reboot
In 2011, it was announced that the Arab Bureau of Education for the Gulf States would be creating a new version for the Gulf nations.[3] The new version began production in 2014 and debuted on September 1, 2015 with 26 episodes.[4][5] Each episode features the short-form series, Super Healthy Monsters.
In 2017, the show launched a special, 12-minute version of the show for the month of Ramadan. Thirty episodes were produced and regularly feature Super Grover 2.0, Elmo's Game Show, Cookie's Crumby Pictures, and segments from the Dream, Save, Do campaign, as well as interviews with children.
The second season, with 52 episodes, premiered on September 22, 2017. The season introduces Elmo and Ka'aki (Cookie Monster) to the street and cuts down the show from a half-hour to fifteen minutes. Also introduced are new song segments introducing the letter and number of the day, similar to those introduced on the domestic show in its 45th season.
A third and final season with 52 half-hour episodes premiered on May 2019. The series was then discontinued in favor of Ahlan Simsim.
1979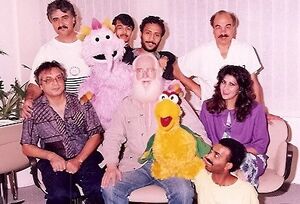 Cast
Human Cast
Abdul Majid Quasim as Khalil (1979-1989)
Ahmad al-Salah as Abdullah (1979-1989)
Jasim Nabban as Hamad (1979-1989)
Ahlam Salah as Fatima (1979-1989)
Sana Younus as Laila (1979-1989)
Ka'id al-Na'Mani as Hisham (1979-1989)
Episodes
2015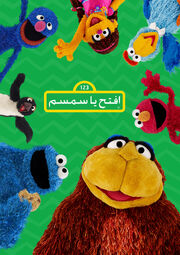 Muppet Performers (Puppeteers)
Abdullah Qassim

playing No'Man (2015-2019) 

Abdullah Rafa

 playing Elmo (2016-2019)
Asma Al Shamsi playing Shams (2015-2019)

Maher Mozwaq

playing Melsoon (2015-2019)

Michel Jabali

 playing 

Habeeb

 & AM Muppets (2015-2019)

Nazier Khawaldeh

 playing Gargur (2015)
Noura Sadaka playing AM Muppets (2015)
Muppet Voices
Human Cast
Abdullah Rafa as Rashid (2015-2019)
Fatima Al-Ta'ee as Amal (2015-2019)
Episodes
Episode 1: The Neighbors
Episode 2: First Day At School
Episode 3: Hot Summer Day
Episode 4: To The Sea
Episode 5: Date Harvest
Episode 6: Little Birdie
Episode 7: Breakfast Play
Episode 8: Hadeed The Iron Friend
Episode 9: The Visitor
Episode 10: Come And Play With Me
Episode 11: Obstacle Course
Episode 12: Slow Down Shams
Episode 13: Gone With the Wind
Episode 14: Super Noman
Episode 15: Cardboard Planes
Episode 16: Heavy Weights
Episode 17: I Can Be Anything
Episode 18: Imagination
2011 Advertisement
In 2011, a Kuwaiti telephone company recreated the characters and used them in a commercial. They also produced promotion plush and a 1 GB Nu'man USB flash drive.
Crew
Executive Producer: Ibrahim al-Yusuf
Chief Producer:

Faisal al-Yasiri

Chief Writer: Yasir al-Malih
Associate Research Directors: Dr. Abdullah al-Dannan (linguistics), Dr. Said Abdul Rahman (psychological and educational affairs)
Sources
External links