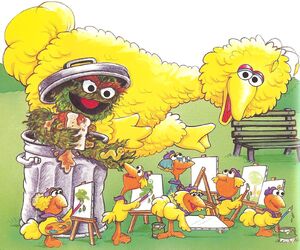 Iggy the Inchworm is a worm that appears in the Big Bird StoryMagic book The Colors of Spring. A friend of Oscar the Grouch, the grouch brings him to meet the birds in the park while they are painting things that are green.
While Oscar talks about his favorite green things, including his favorite green sandwich composed of pickles and spinach, and the green mold on the bread, Iggy inches out of Oscar's hand and lands directly in Buddy Bird's can of green paint. The splash coats the yellow bird green, which Oscar thinks looks good on him.
Community content is available under
CC-BY-SA
unless otherwise noted.