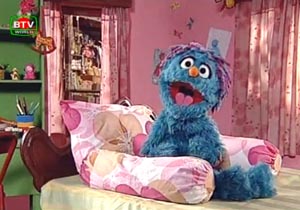 Ikri's World is a recurring segment on Sisimpur inspired by Sesame Street's segment, Elmo's World, starring Ikri Mikri.
In Ikri's World, it features traditional Bangladeshi puppets within Ikri's imagination instead of Elmo's World featuring animate objects that are normally inanimate. The puppets, designed and built by Mustafa Manwar, directly inspired the segment's creation, as the producers felt the American Muppet style might have a greater influence over the traditional puppetry of the country.[1]
The segment also features a clown named Shemai Ali, who is similar to Mr. Noodle. He tries to answer Ikri's question through pantomime. Ratan Paul, Executive Producer of Sisimpur, said about Shemai Ali, "Through Shemai Ali, we teach the children the anatomy plus give them a little fun as well. They feel empowered and confident when they watch an adult make silly mistakes."[2]
This segment appears in the middle of the episode and lasts only a few minutes unlike Elmo's World (season 47), which lasted appoximately 20 minutes.

Gallery
Sources
↑ The World of Mesmerising Muppets Volume 7 Issue 30, July 25, 2007
Community content is available under
CC-BY-SA
unless otherwise noted.