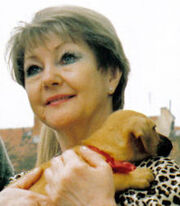 Ilona Kuśmierska is the Polish voice of Prairie Dawn, on Ulica Sezamkowa.
An actor, voice actor, and director, she is accomplished as a dubbing director. She has overseen the dubbing of two Scooby-Doo television seasons, four Scooby movies, two seasons of Fantastic Four, the first 26 episodes of Dexter's Labratory, and series like Eerie, Indiana: The Other Dimension, Charlie and Lola, Ni Hao Kai Lan.
She has lent her voice to characters within Tom and Jerry, Duck Tales, and The Jetsons.
See also