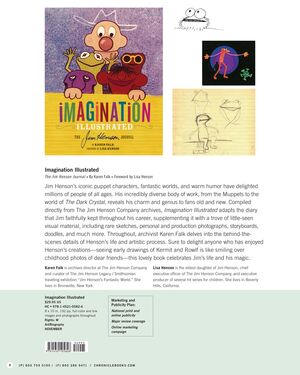 Imagination Illustrated: The Jim Henson Journal is a book based on Jim Henson's journals, edited by Henson Company archivist Karen Falk. The 192-page book was released on October 31, 2012 by Chronicle Books, and includes a foreword written by Lisa Henson.
The book is compiled from material held in The Jim Henson Company Archives, especially "Jim Henson's Red Book", a daily journal that Henson kept from 1965 to 1988. Entries from the journal are filled out with historical notes, photographs, sketches and production material. Two-page spreads cover every major production and turning point in Henson's career, with a focus on archive material that had never been published before.
Contents
Introduction by Karen Falk
Chapter 1 -- The Washington Years: 1954-1962
This chapter covers Henson's college years, including his work on local TV with Sam and Friends, his marriage to Jane Nebel and his early work with Jerry Juhl.
Chapter 2 -- New York and New Directions: 1963-1969
This chapter covers Henson's move to New York City, and opens with Henson beginning to work with Frank Oz. The chapter discusses Rowlf the Dog's appearances on The Jimmy Dean Show, and the Muppet team's commercials and variety show appearances. It ends with the early work preparing for the Muppets' participation in Sesame Street.
Chapter 3 -- The World Tunes In: 1970-1979
Beginning with Sesame Street and the Muppet storybook specials, this chapter describes a very busy decade for Henson, as he launched The Muppet Show and filmed The Muppet Movie.
Chapter 4 -- Fantasy, Fraggles and Fearless Imagination: 1980-1988
Henson films The Great Muppet Caper and then branches out to new creative areas, including the creation of Fraggle Rock with colleague Michael K. Frith, filming The Dark Crystal and Labyrinth, and establishing Jim Henson's Creature Shop. Henson's company expands, overseeing animated shows (Muppet Babies) and licensed products ("Croonchy Stars"). The chapter ends with Henson's early work designing The Jim Henson Hour.
Epilogue -- To Be Continued: 1989-1990
A short final chapter covers the last years of Henson's life, and the work that inspired his colleagues to produce further creative work.
Errata
Page 114 describes Barkley's conception during a lead-up to Sesame Street Season 10, which may be misinterpreted as the character's debut. In fact, the character first appeared twice in Season 9 for Episode 1177 and Episode 1184.
See also