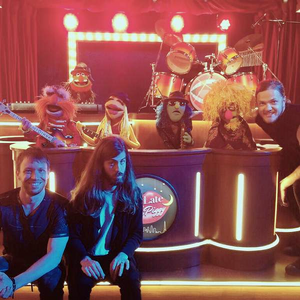 Imagine Dragons is an American rock band from Las Vegas, Nevada. Imagine Dragons' lineup consists of lead vocalist Dan Reynolds, guitarist Wayne "Wing" Sermon, bassist Ben McKee and drummer Daniel Platzman. The band gained exposure following the release of their single "Radioactive" in 2013; Rolling Stone magazine called the song "the biggest rock hit of the year" and MTV called them "the year's biggest breakout band".
The band appeared in the premiere episode of The Muppets performing their song "Roots."
They had previously worked with Puppet Heap (the company who builds the Muppets for Disney) on their music video for "Radioactive" which also featured some veteran Muppet/Henson performers including Michael Schupbach.