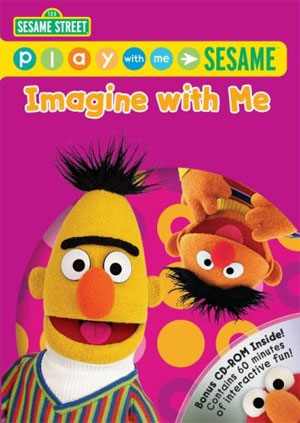 Imagine with Me is a Play with Me Sesame DVD, released on Region 1 DVD in 2008. It was previously released in region 4.
The DVD comes with a bonus CD-ROM.
Sketches
Image
Segment
Description

Ernie says
Up and down.

Muppets
In Your Imagination
(Elmo solo)
(First: Episode 3119)

Muppets
Cookie Monster wants Prairie Dawn's cookie and makes Cookie Monster imagine the potential consequences for his actions. Cookie Monster imagines various ways of trying to get the cookie. First, Cookie Monster imagines himself having a temper tantrum, realizing that it would hurt his fists. Then he tries to pounce on the cookie and then imagines himself stealing the cookie, and gets arrested by a police officer. Just when Cookie Monster eventually runs out of ideas, Prairie suggests that he asks her and he does, and gets half of the cookie.
(First: Episode 3188)

Play with Me
Prairie Dawn suggests that the viewer make laughter when the cast says "play with me".




Muppets
Zoe demonstrates same and different: first she displays a nameless blue monster who doesn't look like her, then she shows an exact replica of herself. The two Zoes only have one difference: their voices.
(First: Episode 3580)

Ernie says
Ernie and Rubber Duckie play "Duckie Says."

Muppets
Big Bird plays a guessing game with the viewer, by giving clues in the form of sounds.
(First: Episode 3451)

Muppets
Imagine That
(First: Episode 2142)

Play with Me
The cast asks the viewers to say "sesame" when they say "play with me" quieter.

Muppets
Marshal Grover and Fred the Wonder Horse look for water in the desert. Grover sees mirages of a waterfall and a fountain, and Fred reminds him that he brought a canteen.
(First: Episode 2874)

Muppets
Cookie Monster and Prairie Dawn plays "Cookie Monster Says".

Muppets
Zoe is imagining a "great friend." She lists off a list of qualities that the friend has to Elmo. Zoe asks Elmo to play along, but Elmo says he doesn't have to imagine, Zoe meets that list.

Muppets
Ernie & Bert — Bert sees Ernie talk to an elephant while using a banana as a phone. Ernie explains to Bert that he is just pretending, but then he tells Bert that the elephant wants to talk to him.
(First: Episode 3899)

Muppets
Grover gets under his blanket, pretending that he is on the moon.
(First: Episode 1309)

Computer
Bert plays perfect pair.

Muppets
Big Bird talks to the viewer about the importance of listening. He listens to the radio to learn about the weather, finding out in advance that ping-pong balls will rain on him.
(First: Episode 3458)

Play With Me
After saying "Play With Me" and having the viewer reply "Sesame", Ernie notes they took turns.

Muppets
Humphrey imagines the possible jobs Baby Natasha will have when she grows older. He envisions her as a doctor, police officer and firefighter.
(First: Episode 3841)

Muppets
Imagination (remake)
(First: Episode 3820)

Move and Groove
Grover dances to the anyway you feel dance.
Cast
Play with Me Sesame Segments
Ernie, Bert, Grover, Prairie Dawn and Cookie Monster
Ernie, Bert, Grover, Prairie Dawn, Cookie Monster, Elmo, Hoots the Owl, Wolfgang the Seal, Zoe, Big Bird, Fred the Wonder Horse, Humphrey, Baby Natasha, Anything Muppets (Cop, princess, king, sea captain and ship crew) and AM Monsters (Blue, nameless), a yellow horse and Mr. Dragon.
Performers
and
CD-Rom
Video: Kids observe tall buildings and make their own buildings out of blocks
Game: Explore Elmo's Classroom
Video: Kids tell Gordon what they see in the clouds
Game: Elmo's Clouds Game
Video: A girl narrates a film in which she and her friends make a mobile at the ocean
Game: A piece of paper transforms into various objects
Video: Grover's weather bulletin
Game: Zoe's Silly Seasons
Video: "Counting Vacation"
Game: Elmo's World: Weather Game
Video: "Eating Cookie"
Game: Zoe's Silly Seasons
Video: "Three of These Kids" with Luis voice-over
Game: Oscar's Trash Collection
Video: toy instrument patterns
Game: Zoe's Pet Center
Video: dice make patterns
Game: Telly's Crayons
Video: sorting black and white clothes
International releases
Community content is available under
CC-BY-SA
unless otherwise noted.