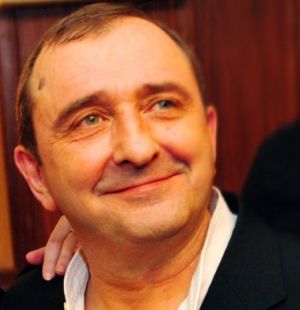 Imre Józsa (1954-2016) was a Hungarian voice actor who dubbed Rizzo the Rat in several Muppet movies.
Józsa was the primary Hungarian voice of Nicolas Cage and often dubbed wiseguy or fast talking actors, including Rob Schneider, Chevy Chase, Paul Giamatti, Billy Crystal, Gene Wilder (including The Producers), Ken Jeong, Joe Pesci (including Raging Bull), and John Candy in Little Shop of Horrors. He also dubbed Marlon Brando in A Streetcar Named Desire, Mike Myers in the Austin Powers movies, C-3PO in the Star Wars prequels, Tom Hanks in A League of Their Own, Peter Cushing in The Hound of the Baskervilles, Richard Attenborough in The Great Escape, Peter Sellers in tom thumb, and Warwick Davis in Ewoks: The Battle for Endor.
Cartoon roles included Jiminy Cricket in Pinocchio and Mickey's Christmas Carol, the stork in Dumbo, Br'er Rabbit in Song of the South, the peddler (speaking only) in Aladdin, Mr. Garrison in South Park: Bigger, Longer & Uncut, and Zeng in the Kung Fu Panda movies.
Józsa performed frequently in Hungarian theater, film, and television. He starred as Hungarian folk hero Sandor Petöfi in a TV miniseries and had a small role as a security guard in the 2005 English-language film The Best Man (with Seth Green).
Muppet/Henson dubbing credits
External links