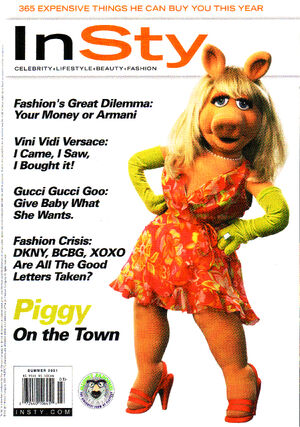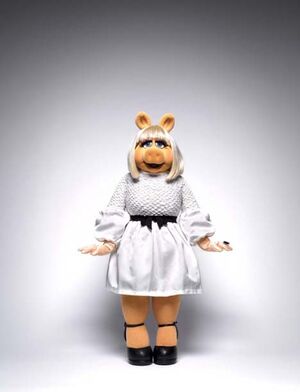 InStyle is a monthly women's fashion magazine that was launched in 1993 in the United States. There are now several international versions, as well.
Appearances
The November 2011 issue featured a spread on Miss Piggy, modeling a series of famous designer labels' custom outfits to promote the Muppets' new film The Muppets.
The UK edition, Style, published this spread for

the February 5, 2012 issue

, timed for the British release of The Muppets.
In an interview on InStyle's Facebook page, Piggy disses Lady Gaga's Kermit toy dress, admits to having internationally-located shoe warehouses, and slight crushes on George Clooney, Brad Pitt, Robert Pattison, and Taylor Lautner. No one compares to Kermit, but some "come surprisingly close." Clooney was rumored to make a cameo in The Muppets at the time. [1]
The Sesame Street Muppets were featured on the InStyle website, in a fashion article published on February 27, 2019 promoting the show's 50th anniversary. A web video (posted the same day) features Big Bird, Elmo, Abby Cadabby, Cookie Monster, Ernie and Bert receiving a mailed invitation to Sesame Street's 50th birthday party, with the printed instruction "dress to impress." The gang pays a surprise visit to InStyle's Laura Brown to help them find the right fashionable clothes for the gala; which doesn't happen until November 10. In the meantime, Brown arranges a photo shoot for the Muppets to pose in their new clothes. Muppetized articles of clothing also make appearances, like a blue high heel shoe and a pink hooded jacket.
References
In 2001, The Jim Henson Company produced a parody brochure of the magazine, titled "InSty," donning Miss Piggy as the cover girl. The item was "for limited distribution" and "as a promotional piece only." The notes further read "We have used the likenesses of certain public figures and icons to inspire and enthuse, and for purposes of parody and satire."
External links