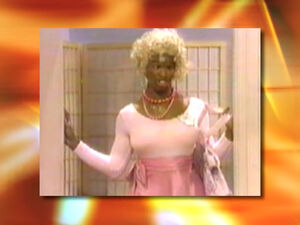 In Living Color is a sketch comedy series that ran on Fox from 1990 to 1994.
References
Mentions
In the third season sketch on a movie spoof of Ghost II, Whoopi Goldberg (T'Keyah Crystal Keymáh) contacted the spirit of Sammy Davis Jr. (Tommy Davidson). When Whoopi is trying to tell Sammy's wife she is in contacted with him, Sammy tells Whoopi to do his fake Hollywood snickering laugh which is a mix of Herman Munster and Kermit the Frog so his wife knows it is him.
A recurring character in the show's fourth season was a thug named "Snuff A. Luffagus."
In the fourth season sketch on Al Sharpton's Hunger Strike, Al Sharpton says Big Bird is black because he is octoroon, high yellow, and passing.
Connections
Community content is available under
CC-BY-SA
unless otherwise noted.