| | |
| --- | --- |
| Written by | Jeff Moss |
| Publisher | Festival Attractions, Inc.; Sesame Street Inc. |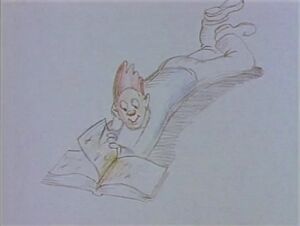 "In My Book" is a Sesame Street song sung by Jerry Nelson over animation of a boy reading his book. He sings about the animals and adventures he can find inside his book -- tigers and pirates and sorcerers. All he has to do is read to follow the adventure, and sometimes all he needs on a quiet day is a book.
The song was later used for an Ernie and Bert sketch. Ernie invites Bert to play ball, but Bert prefers to read instead. He sings "In My Book" to explain why, and as he sings, the animals, pirate, and sorcerer described all appear to act out their parts. At the end of the song, Ernie and all the characters want to sit and read with him. (First: Episode 4075)
Releases
Video (Jerry Nelson version)
Video (Bert's version)
Online