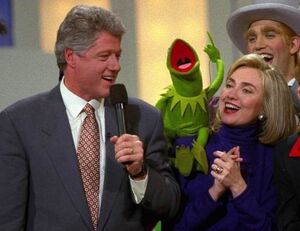 On January 19th, 1993, as part of Bill Clinton's first Presidental Inauguration festivities, the Disney Channel put together the Presidential Inaugural Celebration for Children concert at the Kennedy Center in Washington, D.C. The concert was hosted by Markie Post, and included performances by Mr. Rogers, the Adventures in Wonderland cast, and the Muppets. The special was written by Bill Prady.
Kermit, Gonzo and Rizzo appeared in four sketches during the hour-long concert. Kermit initially comes out to present some facts about Bill Clinton, only to find Gonzo has instead given him facts about himself. Through the show, Kermit introduced Gonzo and Rizzo's "Presidential Information Moments," pre-taped segments of the pair trying to educate children about the Presidents while trying to find The White House. In one segment, Gonzo reported that Theodore Roosevelt was over 150 feet tall. ("The earth shook with his mighty footsteps! He had to comb his hair with an entire pine tree!") In another, he and Rizzo spent the entire segment complaining about their accommodations.
At the end of the concert, kids' musician Raffi played "This Little Light of Mine", inviting all of the performers to join Bill and Hillary Clinton onstage. Steve Whitmire and Dave Goelz came on with Kermit and Gonzo, and Whitmire crouched down behind the Clintons, perching Kermit up on Hillary's shoulder as they sang. The camera held for a minute or so on this scene, and an AP photo of Kermit on Hillary's shoulder appeared on front pages around the nation.