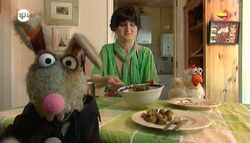 Inci Pamuk (b. 1970) is a Dutch actress and comedian of Turkish origin who made a guest appearance on Sesamstraat, the Dutch co-production of Sesame Street. She played Stuntkip's aunt Coba in an Angsthaas and Stuntkip sketch that first aired in the 2008-2009 season. In the sketch reporter Angsthaas covers the story of Stuntkip 'bravely' telling her aunt Coba that she doesn't want a second portion of Brussels sprouts.
Pamuk was one of the regular panel members of Het lagerhuis (The Lower House), a Saturday night VARA debate program, and played roles on stage and in front of the camera. She was seen in the TV series Hallo, Holland and in the 1994 feature Krima-Kerime about the impossible love between a Turkish girl and a Dutch boy, that featured Sesamstraat actress Elvan Akyildiz as well. In 2009, Inci Lulu Pamuk and Elvan Akyildiz (together with two actors of Moroccan descent) made the tragicomic TV series Harirah about different cultures in modern Dutch society.
In 2001, Inci Lulu Pamuk founded Hassan's Angels, a cabaret group consisting of three female comedians, after Pamuk and her then stage partner Nilgün Yerli stopped performing as comedy duo Turkish Delight. The two other members of Hassan's Angels were Elvan Akyildiz, who was born in Turkey as well as Pamuk, and Charlotte Lap, the 'Dutch part' of the group, who had made children's theater with Hakim Traïda before. Since Lap left in 2007, Pamuk and Akyildiz are performing as a duo.