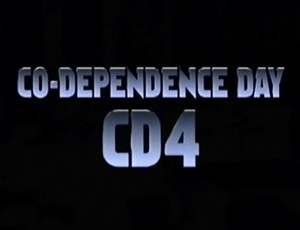 Independence Day, also known as ID4, is a 1996 blockbuster film about an alien invasion of Earth, which just happens to take place on (and was released on) Independence Day.
References
Episode 202 of Muppets Tonight features a trailer for the fake film "Co-Dependence Day: CD4," in which a caricature of the aliens seen in ID4 (represented by Meepzorp) enters therapy for the devastation brought down on Earth's major cities.
Muppets from Space spoofs a scene from ID4 in which Dr. Brackish Okun pressed against a window and telepathically maneuvered by an alien to speak the phrase "release me" to a group of onlookers. In Muppets from Space, Dr. Phil van Neuter is placed in an almost identical position by a group of rats rescuing Gonzo.
Episode 27 of From the Balcony features the balconism, "Armed FARCES," which describes when a movie plot renders the Army useless when the hero turns out to be an Average Joe. One of their examples is Randy Quaid in Independence Day which Waldorf cites as a great patriotic movie. As Statler rebuts the claim, a UFO casts its shadow over the pair before it blasts their set to pieces, referencing a sequence from the film.
Connections
External links
Community content is available under
CC-BY-SA
unless otherwise noted.