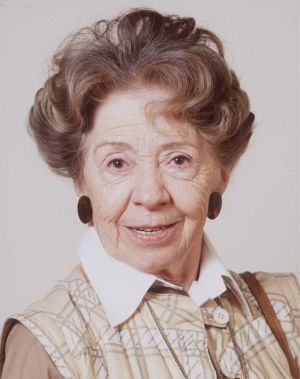 Inge Meysel (1910-2004) was a German actress who starred in films, television, and radio. Famous for her motherly portrayals, she guest starred on Sesamstrasse in 1980, cooking a meal for Samson and the cast.
The Berlin-born Meysel made her stage debut in 1930 and her first film appearance in 1932. However, because her father was Jewish, she was banned from performing until the end of World War II. Postwar, she resumed her activity in Hamburg, back on the stage in 1945. Starting that year, she also performed frequently on German radio, including the documentary play "Der 29. Januar 1947" (reading letters from real people) and the 1950 sequel "Ein Tag wie morgen" as well as adaptations of Tartuffe, Animal Farm (as Molly), Under Milkwood (translated from the BBC radio play, as Mrs. Dai Bread II), and a 1951 portrait of athlete Jim Thorpe (as one of the two interviewing reporters). She was heard in episodes of serials or series including Schule für Eheglück (1952), the courtroom anthology Das Gericht zieht sich zur Beratung zurück (1953), and later Die Wassermina (1965, co-starring as the mother Wilhelmine).
Meysel returned to films in 1949 and subsequently played supporting roles in Wet Asphalt (1956, with Peter Capell) and the "krimi" (crime) film Dr. Crippen Lives (1958). She was also active on TV, playing Dolly Levi in The Matchmaker (which Hello, Dolly! was adapted from) in 1955. By 1960, she was frequently starring in televised plays and TV movies and her film roles were now leads, reprising an earlier stage part in Ihr schönster Tag as a harrying mother. She starred on Die Unverbesserlichen (The Incorrigible), which ran from 1965 until 1971 (with only one episode each year) as mother Käthe Scholz and played the titular mothers on the series Gertrude Stranitzki (1965-1966) and Ida Rogalski (1969-1970).
Between 1982 and 1989, Meysel starred as English cleaning woman Mrs. Harris in six TV movies based on the novel Mrs. 'Arris Goes to Paris and its sequels. She made guest appearances on Peter Alexander präsentiert Spezialitäten, Derrick, Der Alte, and Tatort. She made five appearances on Polizeiruf 110 between 1995 and 2004, her final credit, usually as the eccentric Elizabeth Kampnagel.
External links
Community content is available under
CC-BY-SA
unless otherwise noted.