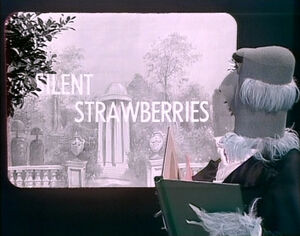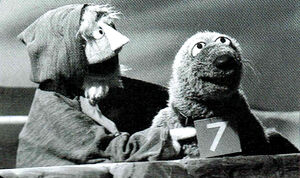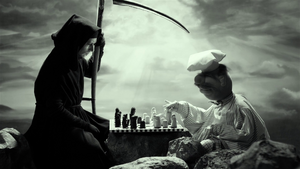 Ingmar Bergman (1918-2007) was a Swedish director and writer known for his many films, most of which are lengthy, existentialist examinations of such issues as religion, violence, and the nature of evil. Perhaps his single best known film is The Seventh Seal (1957), in which the protagonist plays chess with Death. In a nearly six decade career, Bergman wrote 66 films or TV productions, directed 62, and received 9 Academy Award nominations.
References
In Episode 416 of The Muppet Show, the whole cast turns Swedish. Only one is left unaffected, that being The Newsman. He is told it is because he is dull and stupid. To prove that he is not, the Newsman speaks using random Swedish words and names, including Ingmar Bergman.
In The Muppets Go to the Movies, one of the "films" is Silent Strawberries, whose title parodies Bergman's 1957 film Wild Strawberries. The content, however, reflects The Seventh Seal, with Beaker as Death. The director is Gummo Bergman, Ingmar's alleged cousin.
Connections
Many actors, particularly cast members and voice actors for Swedish co-productions of Sesame Street, have worked on both Muppet/Henson projects and films written and/or directed by Ingmar Bergman.
See also
External links
Community content is available under
CC-BY-SA
unless otherwise noted.