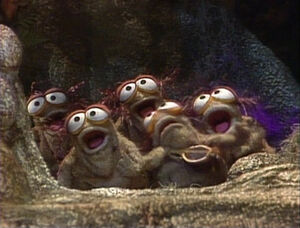 Inkspots are a quintet of small, furry brown creatures who live in Fraggle Rock. They're often seen scurrying through the background, and they occasionally sing backup. They made their first appearance in "The Incredible Shrinking Mokey."
They were usually played by the Gorg suit performers -- Gord Robertson, Rob Mills, and Trish Leeper -- who used them to try to upstage everyone else.
After Fraggle Rock, the puppets would go on to be used as ancillary characters in various Muppet productions, with notable singing lines in The Muppet Christmas Carol and Muppet Treasure Island.
In 2022, they returned to the world of the Fraggles in Fraggle Rock: Back to the Rock, again providing backing vocals and antics in various musical numbers. In "The Glow" one of them is for the first time given a name: Joogie, and was performed by Ali J. Eisner.
Filmography
Sources