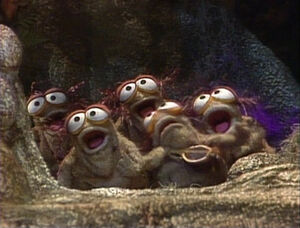 Inkspots are small, furry brown creatures who live in Fraggle Rock. They're often seen scurrying through the background, and they occasionally sing backup. They made their first appearance in "The Incredible Shrinking Mokey."
They were usually played by the Gorg suit performers -- Gord Robertson, Rob Mills, and Trish Leeper -- who used them to try to upstage everyone else.
An Inkspot was often seen in Muppets Tonight as a background crew member.
Filmography
Sources