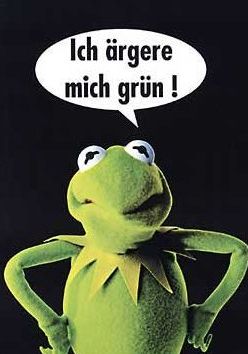 The different names and voices of Kermit the Frog across the globe. In most countries, multiple actors have voiced the frog (however in Portuguese speaking countries, Kermit is changed to a toad, "sapo", instead of being a frog, "rã"), usually with separate performers for the localized Sesame Street than for the Muppet Show and movie translations. Instances with no known dub performer nor name translation are not included.
Originally, Spanish-speaking countries in Latin America knew the character as La Rana René. In 2011 Kermit explained that when he first visited Mexico they introduced him as "René", and since he didn't want to be impolite, he just went with it. However in 2011 (with the release of Los Muppets), Kermit returned to his original name in the Latin American markets. (YouTube) This was part of a larger effort by Disney Character Voices International to ensure greater uniformity in character names and voices across countries.
Country/Show
Name
Performer
Picture
Brazil
Vila Sésamo (1972)
Caco o Sapo
Raimundo Duprat
Brazil
The Muppet Show
Os Muppets Conquistam Nova York
Caco o Sapo
Nelson Batista
Brazil
Muppet movies (1992-2005 dubs)
Caco o Sapo
Orlando Viggiani
Brazil
Muppet movies (2011 dubs onward)
Kermit o Sapo
Paulo Vignolo
Canada
Bonjour Sesame
Kermit la grenouille
Roger Joubert
Canada
Les Muppets
Kermit
Nicolas Charbonneaux-Collombet
Croatia
Ulica Sezam
Žaba Kermit
Ronald Žlabur
The Czech Republic
Mupeti
other movies
Kermit
Ivo Novák
Denmark
Muppets Juleeventyr
Kermit
Anders Peter Bro
Denmark
Muppets Fra Rummet
Mr. Magorium's Wonder Emporium
Kermit
Jan Tellefsen
Denmark
Leg med os fra Sesamgade
Elmo's Verden
Kermit
Jens Jacob Tychsen
France
Le Muppet Show
Kermit la grenouille
Roger Carel
France
1, Rue Sésame
Kermit la grenouille
Jacques Ebner
France
most Muppet movies
Kermit la grenouille
Edgar Givry
France
Muppets Tonight
Joyeux Muppet Show de Noël
Kermit la grenouille
Luq Hamett
France
Muppets TV
Kermit la grenouille
Sébastien Cauet
Germany
Sesamstrasse
Der Grosse Muppet Krimi
Bibos abenteuerliche Flucht
Die Muppets Weihnachtsgeschichte
Muppets Sing mit Uns: Kermit & Co.
Muppets Die Schatzinsel
Muppets Tonight
Muppets aus dem All
Kermit der Frosch
Das Grösste Muppet-Weihnachtsspektakel aller Zeiten
and several re-dubbed specials
Kermit der Frosch
Andreas von der Meden
Germany
Die Muppet Show
Ich war frei, ich war glücklich
Muppet Movie
Die Muppets in Hollywood
Die Muppets gehen ins Kino
Die fantastische Miss Piggy Show
Die Muppets erobern Manhattan
Die große Muppet-Party
Die Muppets feiern Weihnacht
and guest appearances
Kermit der Frosch
Horst Gentzen
Germany
Die wundersame Geschichte vom Weihnachtsspielzeug
Kermit der Frosch
Unknown
Germany
Muppets Der Zauberer von Oz
Die Muppets: Briefe an den Weihnachtsmann
Studio DC: Almost Live - Extended Edition
Kermit der Frosch
Niko Macoulis
Germany
Die Muppets
Muppets Most Wanted
Die Muppets und Du
The Muppets (2015 series)and guest appearances
Kermit der Frosch
Stefan Kaminski
Hungary
The Muppet Show
Muppet-show New Yorkban
Muppet Kincses Sziget
Muppet-show az űrből
Breki béka
László Lippai
Hungary
Muppets
Muppet-krimi: Körözés alatt
Breki béka
István Mikó
Iceland
Hopp og hí Sessamí
Kermit
Pétur Örn Guðmundsson
Israel
Rechov Sumsum
Kermit tzefarde
Eyal Bartonov
Israel
The Muppets
Muppets Most Wanted
Kermit
Zvika Fohrman
Italy
Sesamo Apriti
Kermit il ranocchio
Leonardo Severini
Italy
The Muppet Show
Kermit il ranocchio
Willy Moser
Italy
most Muppet movies
Kermit il ranocchio
Mino Caprio
Japan
The Muppet Show
Kermit the Frog
Yasuo Yamada
Japan
The Muppet Christmas Carol
Kermit the Frog
Koichi Yamadera
Kuwait
Iftah Ya Simsim
Kamel
Unknown
Mexico
El show de los Muppets
The Muppet Movie (original dubbing)
Los Muppets Toman Nueva York
The Christmas Toy
A Muppet Family Christmas
La Rana René
Jose María Iglesias
Mexico
John Denver & the Muppets: A Christmas Together
La Rana René
Jorge Arvizu
Mexico
Sigan a esa ave
La Rana René
Jaime Vega
Mexico
Plaza Sésamo, CinderElmo, It's a Very Merry Muppet Christmas Movie
La Rana René
Salvador Nájar
Mexico
Muppet movies, 1992 onward
La Rana René
Raúl Aldana
Mexico
Muppets Esta Noche and Los Pequeños Muppets
La Rana René
Arturo Mercado
The Netherlands
Sesamstraat
The Muppets
Muppets Most Wanted
Kermit
Wim T. Schippers
Norway
En Muppet Julefortelling
Kermit
Ragnar Otnes
Poland
Ulica Sezamkowa
Muppety z Kosmosu
Kermit Żaba
Włodzimierz Press
Poland
Bawmy się, Sezamku
Kermit Żaba
Jan Aleksandrowicz
Poland
Muppety onward
Kermit
Michał Zieliński
Portugal
Abre-te Sésamo (1976)
Cocas
João Perry
Portugal
Rua Sésamo
Os Marretas
Cocas
Adriano Luz
Portugal
Abre-te Sésamo (2007)
Cocas
Mário Bomba
Slovakia
Muppets
Kermit
Juraj Kemka
Spain
Ábrete Sésamo
Barrio Sésamo
La Rana Gustavo
Fernando Pieri
Spain
Muppet movies, 1992 onward
La Rana Gustavo
Juan Antonio Arroyo
Spain
Juega Conmigo, Sésamo
Gustavo
José Luis Angulo
Sweden, Sesam,
Svenska Sesam
Grodan Kermit
Lars Amble
Sweden, Mupparnas Julsaga,
Mupparna I Rymden
Kermit
Anders Öjebo
Turkey, Susam Sokağı
Kurbağacık
Sungun Babacan
Community content is available under
CC-BY-SA
unless otherwise noted.