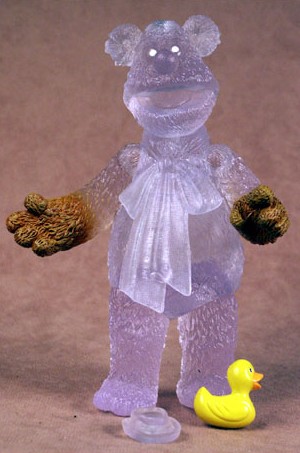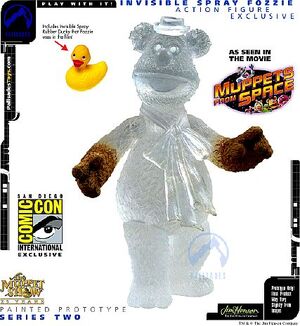 Series: Exclusive (Summer 2002)
Figure: Fozzie Bear
Articulation: neck, ball-jointed shoulders, hips
Accessories: hat (magnetic), rubber duckie
The Invisible Fozzie Action Figure was released by Palisades Toys as part of the The Muppet Show's 25th anniversary marketing campaign and sold exclusively at the San Diego Comic Con and through the Palisades Collectors Club.
The figure was based on the scene from Muppets from Space in which Fozzie used Dr. Bunsen Honeydew's invisibility spray to save Gonzo. The spray was stored inside an ordinary-looking rubber duckie. The effect was sadly temporary, and wore off when Fozzie washed his hands. As such, he is made of see-through plastic, with only his hands painted. A similar idea had been implemented earlier with the release of the Vanishing Cream Beaker Action Figure.
Invisible Fozzie took the place of the Tour Animal Action Figure at the San Diego Comic Con when production delays prevented his scheduled release. Muppet fan Warrick Brownlow-Pike suggested the Invisible Fozzie, as it could be produced from the same sculpt as the Fozzie Bear Action Figure from Series 2. As Invisible Fozzie was released a few weeks earlier than Series 2, he marked the debut of Fozzie in Palisades' action figure line.
The rubber duckie is not Rubber Duckie from Sesame Street. This figure was also the first Muppet figure produced by Palisades to be directly based on a scene from one of the Muppet movies.
Community content is available under
CC-BY-SA
unless otherwise noted.