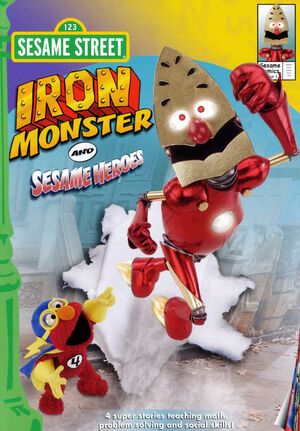 | | |
| --- | --- |
| Release Date | 2010 |
| Produced by | Warner Home Video |
| Catalogue no. | SS00196 |
| Format | DVD |
| Discs | 1 |
| Region | 1 |
Iron Monster and Sesame Heroes is a superhero-themed Sesame Street DVD. It was released exclusively to Target in October 2010, with a wider release in January 2011.
The disc features the street scenes from episode 4218, episode 4216, episode 4176 and episode 4124.
The Bert and Ernie's Great Adventures episode "Heroes" is included as a bonus feature.
The box cover art is a parody of a comic book cover with Iron Monster bursting through the paper, page corners curled up on the bottom, and Sesame's version of the Comic Code Authority box stating that it has been approved by the Sesame Comics Code.
Description
Look! Up in the air on Sesame Street... it's a bird... it's a plane.... it's... Iron Monster??!!! When Super Grover's cape is not ready at the Laundromat, he turns himself into Iron Monster, Super Hero of the Laundromat to heroically solve any laundry related problem that comes his way. Can he make change for the dryer and subtract stains using amazing math skills? Will his power of static cling come through in a pinch? Find out in this and two other action packed Sesame Street stories including fantastic friends Elmo, Abby, and Rosita in the story of The Furry Four, and Super Grover's silly search for a new sidekick. It's heroic math fun for everyone!

Chapter title cards
Other releases
Community content is available under
CC-BY-SA
unless otherwise noted.