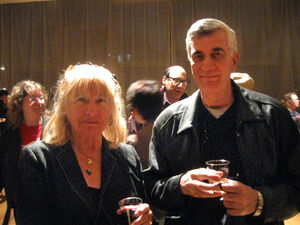 Irra Verbitsky (b. 1939) is an independent animator who contributed several films to Sesame Street. Verbitsky is also partner in a Polestar Studios with Don Duga and is currently a professor at the School Of Visual Arts in New York.

Sesame Street Filmography
Picture
Theme / First Appearance
Description

Fruta Manzana

---

Episode 1231
Fruta Manzana sings about being happy and healthy.

Lost Kitty

---

Episode 1231
A girl goes around the city to look for her lost kitty, and sees its image in a variety of signs and in nature.

Bus Stop

---

Episode 1231
A woman displays a BUS STOP sign to a crowd.

Andy's Bath

---

Episode 1289
Little Andy doesn't understand why everyone's noses turn pink when he greets them. He comes to realize that he didn't take a bath.

Rabbits

---

Episode 1473
Several rabbits try to pull a carrot out of the ground.

Real Life Sounds

---

Episode 1483
Various sounds are demonstrated, including an alarm clock, a baby crying, a telephone, a faucet dripping, a boy sneezing, traffic horns honking, a helicopter, police sirens, a motorcycle, and rain.

Fruta Manzana

---

Episode 1485
Fruta Manzana sings about keeping the place clean by throwing away fruit peels and apple cores.

Cousin Canny

---

Episode 1486
A trash can in the park dictates a letter about the scenery that surrounds her.

Baby Bird

---

Episode 1510
A baby bird tries and tries again to fly from its nest.

Curious Cat

---

Episode 1518
A cat follows its ears to a squeaking noise, which he thinks is coming from mice, but it's coming from swings.

Exercise

---

Episode 1631
Howard Cosell finds out about exercise.

Dr. Frankenstein

---

Episode 1637
Igor listens as Dr. Frankenstein names body parts in creating another Igor.

Twelvia

---

Episode 1676
The story of Twelvia.

The Lion and the Mouse

---

Episode 1868
A retelling of the Aesop fable.

Missing Bird

---

Episode 1869
A boy looks for his missing bird, following its footprints.

Cooperate

---

Episode 1875
A tour of a TV studio, with set direction, camera adjustment, etc., setting up for a taping with an R2-D2 like robot.

Memorizing Dog

---

Episode 1888
A dog uses his memory to remember where his bone is buried.

Ocean Sounds

---

Episode 2053
A boy listens to his surroundings by the ocean, until his mom calls him for lunch.

Magician's Bad Day

---

Episode 2053
A magician writes in his diary about the many mishaps during his performance.

Roses Are Red

---

Episode 2058
A peasant tries to woo a pretty girl by reciting the famous "Roses are Red" poem. The lines are fed to him by a poet behind a bush, whom the girl eventually runs off with.

Exercising Beaver

---

Episode 2067
A beaver does his exercises, while his friends make fun of him. He then uses his strength to save his friends when the dam breaks.
Community content is available under
CC-BY-SA
unless otherwise noted.