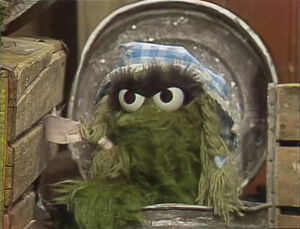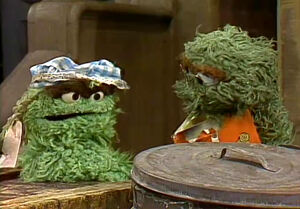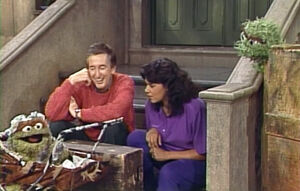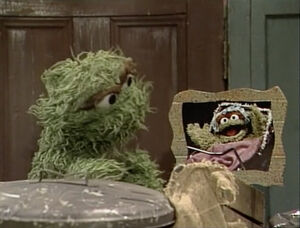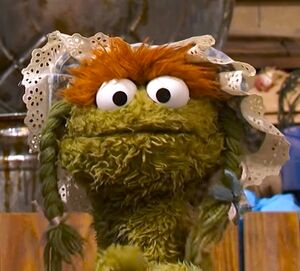 Irvine is Oscar the Grouch's niece, herself a baby Grouch. She has a tendency to scream and cry very often. Her parents are not seen in the series.
She appeared on Sesame Street as early as season 10 (Episode 1216) up through season 30. She made a return appearance in a 2016 video for Sesame Street in Communities. (YouTube)
In her first appearances on the show, she was referred to as "Irving," but the name was changed to "Irvine" by season 13.
Irvine can also be spotted in the finale of The Muppets Take Manhattan.
Performer and puppet history
In her first appearance, Irvine was performed by Bob Payne. Michael Earl performed the character during season 11 before Martin P. Robinson took over in 1981. She was also performed by David Rudman in Episode 2626 and Episode 2737 (scene 4 only), and Jim Martin in Episode 2810 when Robinson was performing Telly during the same scenes.
The puppet used for Irvine first appeared as Baby Grouch in Episode 1673. Prior to season 14, the character was originally made from other small, stock Grouch puppets. The Irvine puppet, stripped of her hair and bonnet, was used in Follow That Bird and The Adventures of Elmo in Grouchland as various background Grouches. It was also used as a baby Oscar in Episode 2313.
Notes
Starting in season 22, the Irvine puppet is given an eyebrow mechanism, just like her uncle.
Episodic Appearances
Video appearances
Book appearances
See also