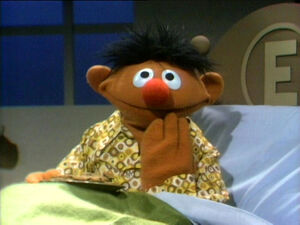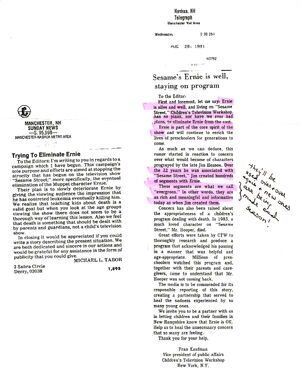 In the early 1990s, following the death of Jim Henson, rumors began to appear that Sesame Street's Ernie would be killed off to teach children about death. There were various suggestions claiming that Ernie would have died by a disease or by a traffic accident (either being hit by a car or being killed in a fatal auto accident). Due to the rising popularity of the Internet at the time, the rumors became more widespread. However, the producers had no plans to kill a Muppet character.
Rumor Sources
The earliest reports of Ernie being written out of the show developed immediately following Henson's death. An article from The New York Times News Service circulated to a number of American periodicals with the headline "Ernie to be retired" on May 18th. Sesame Street producer Dulcy Singer was quoted as saying, "We surely aren't going to pull someone else in to play Ernie" placing an emphasis on a library of past performances with the character, but not stating anything specifically about the character's retirement.[1] Several days later, on May 23rd, CTW's publicity department issued a statement that Ernie is "not going to retire" and clarified that the initial story was the New York Times journalist's misunderstanding of Singer's previous statement.[2]
The rumor, however, persisted. It became more widespread in 1991 when Michael Tabor, a college student in New Hampshire, took the then-small rumors too seriously. At his college graduation, all the graduates were wearing "Save Ernie" beanies and signing a petition to save the character. However, by the time he found out the "Ernie's Death" rumor was false, it already hit the papers.
Several years later, speaking to the Pittsburgh Post-Gazette to promote the Sesame Street Unpaved campus tour, Ernie successor Steve Whitmire recalled, "At first, they weren't sure if Ernie would go on. There was some talk that Ernie might be retired. But we knew Jim didn't want that to happen, so I started doing his voice for toys and records, and it worked into doing the character as well."[3] Whether Whitmire was privy to discussions with producers at Children's Television Workshop, or he was referencing the aforementioned rumors, is not specified.
Official Statements
"Ernie is alive and well, and we have no intention of anything happening to him or anyone else."
—Children's Television Workshop spokeswoman Carolyn Miller
Sources
Community content is available under
CC-BY-SA
unless otherwise noted.