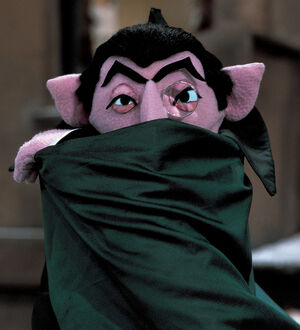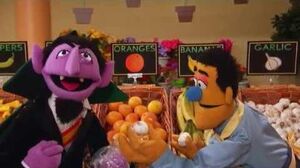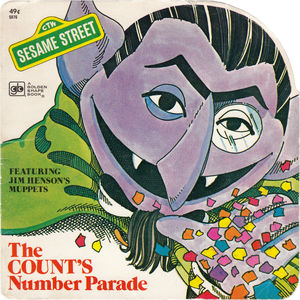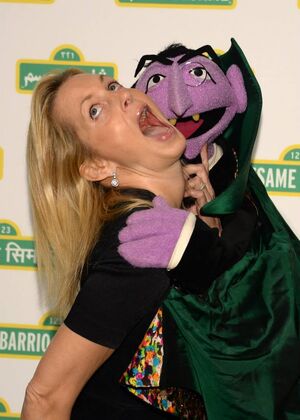 Sesame Street's Count von Count was originally modeled after Bela Lugosi's interpretation of Count Dracula. Yet, while he exhibits many classic vampire clichés — an old spooky castle, a fondness for bats, fang-like teeth, and his overall appearance — he has never been explicitly identified as a vampire, on screen.
The Count resembles Bela Lugosi's portrayal of Dracula in voice (speaking in an Eastern European accent and pronouncing his Vs as Ws, and vice-versa), appearance, and sometimes mannerisms. For example, in early sketches, the Count waves his hands to exercise hypnotic power over other Muppets and holds his cape over the lower part of his face while moving (as seen in a 1972 sketch with Ernie and Bert). In addition, an early skit revealed that the Count shows no reflection in a mirror, and the Season 40 online press kit listed garlic as a pet peeve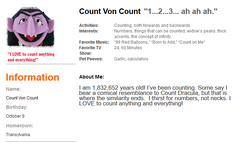 ; both of these characteristics are consistent with vampire ailments. The script for Episode 1357 had the Count acknowledge his childhood as "a little vampire," but this was not carried over to the taped episode.
Unlike vampires as traditionally depicted in legend and motion pictures, however, The Count often relaxes in the sunlight (as seen in "Counting Vacation" and "Coconut Counting Man," among others), but has shown a tendency to stay out of it when he can.[1] Furthermore, the Count has never demonstrated a fondness for blood, nor does he sleep in a coffin (he sleeps at night in a normal bed). However, while the Count has never been shown to posses the ability to turn into a bat like some vampires of lore, he does exhibit this behavior in the Barrio Sésamo comic story "La mansión del conde Draco" from the Joyas del Comic Ersa collection. The Count walk-around seen in the Ice Follies has bat-like wings.
A 2009 version of The Count's profile on Sesame Workshop's website refers to the character as a "number-friendly vampire" and suggests that he may be a distant relative of Count Dracula.[2] In addition, the book Sesame Street Unpaved describes the Count as a "Numerical Vampire."[3] In contrast, the 2001 Sesame Street Muppets Drawing Guide insists "The Count is not a vampire."[4]
Some traditional vampire myths depict vampires as having a similar fixation with counting small objects, providing a means of distracting them by tossing a handful of seeds or salt on the ground. This is seen as a protection from the vampire. Historically, this condition appeared simply to be a coincidence, with the character inspired more by the pun on his title of nobility. In 2017, the question of his arithmomania was confirmed by the Count himself in a video for Wired. Responding to the question of Is the Count on Sesame Street a vampire?, a query posited by Google search terms, the Count replies, "Yes, but I am a wampire [sic] with an unquenchable thirst for numbers."
In the Universal Studios Singapore stage show, Trick or Treat with Sesame Street, when the Count goes trick-or-treating without a costume, someone assumes he's dressed as a vampire, to which he replies "Vampire? Where?"
A blooper reel shown at the 2019 San Diego Comic Con shows an outtake from Episode 4907 in which the Count bites Cookie Monster on the neck in the way that a vampire would attack its victim.[6]
Episode 4931 references his vampire nature when the Count is seen at the produce section of a supermarket. He reacts negatively when the clerk offers him a hunk of garlic. In a 2019 interview with Marvel LIVE at San Diego Comic-Con, the Count claims he passes through the crowded convention by turning into a bat.
Criticisms
Over the years, Sesame Street's depiction of a vampire-like character has been met with some criticism from adult audiences. The following letters are some examples of the complaints lodged with Sesame Street's producers, as found in the CTW Archives.
In popular culture
Family Guy "Family Guy Viewer Mail #1" (2002)

---

Following a clip of The Count on TV:

Peter: Hey, is the Count a vampire?
Brian: What's that?
Peter: Well, he's got those big fangs. Have they ever shown him doing somebody in and then feeding on him?
Brian: You're asking if they've ever done a Sesame Street in which the Count kills somebody and then sucks their blood for sustenance.
Peter: Yeah.
Brian: No, they've never done that.

Greg the Bunny (2002)

---

Count Blah is a parody of The Count who knows to recuse himself of the misunderstanding when new people meet him, but firmly established as a vampire character.

The Colbert Report (June 29, 2009)

---

Stephen Colbert states that we have to attack counting. "Counting uses Arabic numerals, and it is a known associate of vampires." A picture of Count von Count accompanies the statement.

SuperNews! "Twilight of the Vampires" (2009)

---

The Count is shown to be the head vampire in the vampire takeover of Hollywood which included Gary Oldman's Dracula, Blacula, Nosferatu, Bill Compton, and Edward Cullen.

The Simpsons "Treehouse of Horror XXI" (2010)

---

The vampire-themed segment features a parody of the Count sucking the blood from a parody of Big Bird.

Mary Shelley's Frankenhole season two (2012)

---

The Count parody Count Alongwithme features as a regular member of Dracula's vampire entourage.

Robot Chicken: "Victoria's Secret of NIMH" (2014)

---

After bringing newcomer Alex to the Street's nightclub, the Count is revealed to be a real vampire that has turned the rest of the cast into his undead army. Alex is saved when the Count and the rest of the cast are killed by Marvel Comics vampire hunter Blade.
Sources
See also
External links