In 2002, Sesame Workshop announced that an HIV-positive character would be introduced to the cast of Takalani Sesame, the South African co-production of Sesame Street.[1] This idea was considered crucial for the area where AIDS is an epidemic. The HIV-positive character, Kami, was designed to help the promote tolerance and reduce the stigmas associated with HIV/AIDS. Kami is a furry yellow five-year-old Muppet who contracted the disease as the result of a tainted blood transfusion she received as an infant. Aside from appearing in the South African co-production, Kami also appears in Sesame Square, the Nigerian co-production of Sesame Street.
However media reports at that time of Kami's initial introduction gave many the impression that this character was proposed for the American version of the program. Some conservatives vigorously opposed the idea. The Traditional Values Coalition stated that:
"

The introduction of an HIV-infected Muppet on Sesame Street is problematic because HIV is spread primarily by homosexuals and bisexuals in the U.S. It is likely that an HIV-infected Muppet would be used to teach tolerance and acceptance of homosexuals to the preschool Sesame Street audience. In effect, this would be another propaganda tool to normalize homosexuality in our culture.[2]

"
The subject become a source of debate and attacks on several news shows, such as The O'Reilly Factor.[3] Republican congressmen Billy Tauzin, Chip Pickering, Fred Upton, Joe Barton, Richard Burr and Cliff Stearns formally cautioned PBS against introducing HIV-affected Muppets to American audiences, reminding PBS that Congress could withhold funding if such a character was introduced.[4][5]
Despite the erroneous reports that Sesame Street was planning to introduce an HIV-positive character to American viewers, Sesame Workshop never intended on launching such a character in the United States. Robert Knezevic, vice president of international co-productions for Sesame Workshop, stated that "categorically, there are no plans to put this Muppet on the American 'Sesame Street.' I think this story kind of ran away."[6]
Sources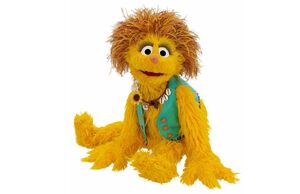 External links
Community content is available under
CC-BY-SA
unless otherwise noted.