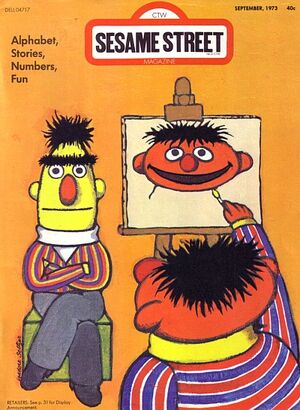 Isadore Seltzer (b. 1930) is an illustrator whose work has frequently appeared in magazines and on album covers. He was a frequent contributor to Sesame Street Magazine, including cover art, between 1972 and 1975. In 1983, for the premiere issue of Muppet Magazine, Seltzer illustrated "Mup-Man," a Pac-Man parody maze.
Seltzer was a busy graphic artist, often on book covers, and worked with Reynold Ruffins and others at Push Pin Studios (which did commercial illustration as well as self-promotion through the Push Pin Graphic, which Seltzer contributed to). Book covers included Ogden Nash's Marriage Lines (1964), Larry Adler joke books, Truman Capote's Other Voices, Other Rooms, and Patricia Highsmith's Sweet Sickness. He drew covers and full interior illustrations for Shakespeare's plays and children's books including Here I Tricked a Ghost and Grimm's fairy tales.
Seltzer's often moody style graced album covers from 1959 onward, including the Columbia Masterworks series (classical music and Broadway cast albums) and The Electric Lucifer, as well as promotional posters for Patti Labelle albums. He combined both specialties by illustrating Leonard Bernstein's Young People's Concerts book and record set. Magazine work included illustrations forBoy's Life, TV Guide, PC Mag, and New York Magazine. In one of his more unusual assignments, he drew tattoos for the 1980 film Tattoo. In the late 1990s, Seltzer supplied illustrations for screenplays in Scenario magazine. He taught art for a time at Syracuse University and the Parsons School of Design.
Community content is available under
CC-BY-SA
unless otherwise noted.