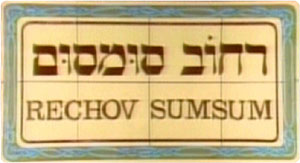 The State of Israel (Hebrew: מְדִינַת יִשְׂרָאֵל) is a country in the Western Asian Levant, on the southeastern edge of the Mediterranean Sea. It borders Lebanon on the north, Syria and Jordan on the east, and Egypt on the south-west.
There have been several Sesame Street co-productions in Israel:
Other references
A 2004 edition of Global Grover focused on Israel, where Grover visits a Kibbutz and learns how to make his own clubhouse.
Community content is available under
CC-BY-SA
unless otherwise noted.