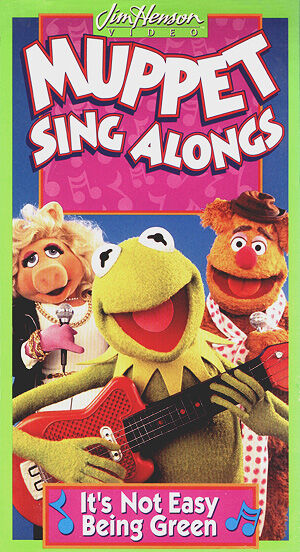 Muppet Sing-Alongs: It's Not Easy Being Green was released direct to video in 1994.
Kermit hosts this video, where he presents a variety of songs, with appearances by Clifford, Billy Bunny, Otto, and a fish (performed by Peter Linz).
Songs
"Kokomo" ("Kokomo" music video)
The songs "Eight Little Notes" and "Bar-B-Que" both feature matted walk-on appearances by characters who weren't in the original sequences (Kermit in "Eight Little Notes" and Billy Bunny in "Bar-B-Que"), while the middle of "Sweet Vacation" is replaced with new footage of Kermit closing the show.
Credits
Starring the Muppet Performers: Bill Barretta, Camille Bonora, Fran Brill, Lisa Buckley, Julianne Buescher, Kevin Clash, Dave Goelz, Richard Hunt, John Kennedy, Bruce Lanoil, Peter Linz, Rob Mills, Kathryn Mullen, Jerry Nelson, David Rudman, Gordon Robertson, Carol Spinney, Allan Trautman, Steve Whitmire, Frank Oz, Jim Henson
Director: David Gumpel
Producer: Ritamarie Peruggi
Writer: Jim Lewis
Production Design: Lyndon Mosse
Editors: Mark Oberthaler, David Gumpel
Technical Director: Tom Guadarrama
Music: Mark Radice, Dan Stein
Executive Producer: Brian Henson
International releases
Community content is available under
CC-BY-SA
unless otherwise noted.