Written by
Richard M. and Robert B. Sherman
Date
1964
Source
It's a Small World ride
Publisher
Wonderland Music Company Inc.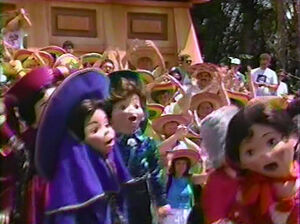 "It's a Small World" is the theme song from the Disney attraction of the same name that premiered at the Pepsi pavilion at 1964/1965 World's Fair in New York. The attraction, which celebrates international harmony, was moved to Disneyland in 1966 and has since been duplicated at the Magic Kingdom theme parks in Walt Disney World, Paris, Tokyo and Hong Kong.
Performances
Spike Milligan and the Muppets sing "It's a Small World" as the closing number of the internationally themed episode 317 of The Muppet Show, paying tribute to the Muppets' favorite country, Disneyland. The set mimics the Mary Blair-designed buildings of the ride, and characters bob up and down in the manner of the Disneyland animatronics.
Pepe and the Swedish Chef briefly appeared as part of the 50th Anniversary Global Singalong of the song presented on ABC's Good Morning America on April 10th, 2014.
Theme park attraction
References
In the 2006 book Before You Leap, Kermit the Frog says that his bank, Bank of Amphibia, uses the song as hold music, which irritates him. Bank of America also sponsored the attraction at Disneyland from 1966 to 1993.
Sources
Community content is available under
CC-BY-SA
unless otherwise noted.