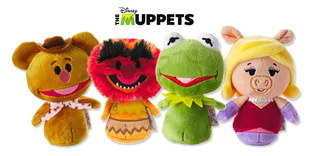 Itty Bittys is a collectible plush toy line by Hallmark released in 2014. The miniature plushes are cute stylizations of popular characters from franchises such as Disney (including Pixar and Winnie the Pooh), Marvel, DC Comics, Star Wars, The Wizard of Oz, and My Little Pony
The Muppets set of Itty Bittys plushes includes four Muppets characters: Kermit the Frog, Miss Piggy, Animal and Fozzie Bear.
A set of seven Sesame Street Itty Bittys is set to be released in 2018. Individual characters to be released are Big Bird, Bert, Cookie Monster, Elmo and Ernie. Grover and Oscar the Grouch will be released together with a story book.