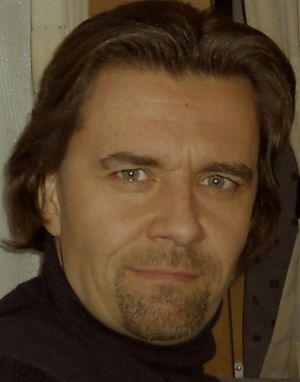 Ivo Novák (b. 1967) is a Czech actor who has dubbed Kermit the Frog in several projects beginning with Mupeti (The Muppets). An exception was the dub of Muppets Most Wanted, where he switched to dubbing Walter.
Novák has appeared in international film and television in various nationalities, including the first episode of the mini-series Genius: Albert Einstein (with Geoffrey Rush, as a German chemistry teacher), The Illusionist (an Austrian officer), Mission: Impossible - Ghost Protocol and Hannibal Rising (both as Russians), NBC's Crossing Lines (twice as a Dutch doctor), the Netflix series Borgia (two different Italians), and the sci-fi miniseries Dune and Children of Dune. For a change, he played his actual nationality (a Czech diplomat) in an episode of Legends (with Sean Bean).
In dubbing, Novák has lent his voice to Warwick Davis in Solo: A Star Wars Story, Toby Jones in By the Gun, Andrew Lincoln on The Walking Dead, and Daniel Dae-Kim on Lost. Cartoon roles include Squidward on SpongeBob SquarePants and Cletus and the squeaky-voiced teen on The Simpsons.
Muppet dubbing credits
External links