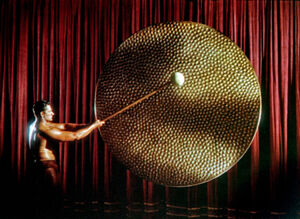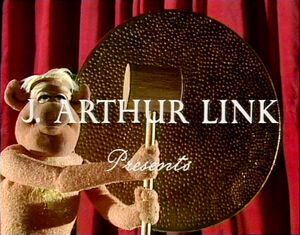 J. Arthur Rank was the name most commonly used by the influential British film producer Joseph Arthur Rank (1888-1972), whose name (in a manner similar to Walt Disney) was largely synonymous with his company. In 1937, due to a consolidation of his interests in several film studios, it became known as the "J. Arthur Rank Organization" or the Rank Organization.
The Rank films featured a logo which at the time was as familiar as the MGM lion: a muscular man (played by several athletes and actors over the years) beating a resonant gong, followed by the text "J. Arthur Rank Presents." Some of the better known titles produced or distributed by Rank or his organization (and thus bearing the logo) included David Lean's 1948 version of Oliver Twist, the Ealing Studios comedies (including Kind Hearts and Coronets and The Ladykillers with Peter Sellers, the latter remade with effects from Jim Henson's Creature Shop), and the Carry On series.
References
In the 1981 special The Muppets Go to the Movies, along with other spoofs of movie logos and trademarks, Link Hogthrob presents his take on the Rank logo. Assuming the role of both producer and trademark, Link bangs the gong to the words "J. Arthur Link Presents."