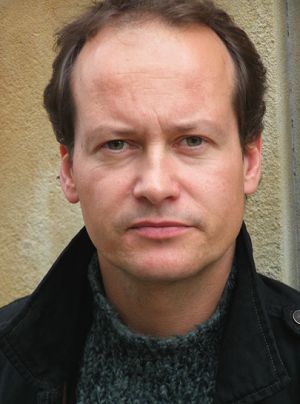 Jacek Bończyk (b. 1967) is a Polish voice actor who has been heard in several Polish Muppet dubs. He voiced Walter in Muppety (The Muppets) and Tutter in Niedźwiedź w dużym niebieskim domu (Bear in the Big Blue House), in both cases re-voicing Peter Linz roles. He also co-wrote the Polish translations of the Bear songs.
He also dubbed Pepe the King Prawn in Muppety z Kosmosu (Muppets from Space), Big Bird in the Polish Sesame Street co-production Ulica Sezamkowa, Baby Bunsen and Baby Bean Bunny in Mapeciątka (Muppet Babies), Artie Springer on Dog City - Miasto piesprawia (Dog City), and Dave the Human on The Animal Show.
Bończyk is the primary Polish voice of Mickey Mouse, Shaggy in the Scooby-Doo franchise, and Prince Derek in the Swan Princess movies. He's also been heard in many Hanna-Barbera series, Looney Tunes (mostly as Hubie), Superman (Flash), Ultimate Spider-Man (Loki), and Cloudy with a Chance of Meatballs (Flint Lockwood)
He's also dubbed actors Rupert Graves in A Room With a View, Jason Narvy in Mighty Morphin Power Rangers: The Movie, Corin Nemec on Parker Lewis Can't Lose, and Matt LeBlanc on Friends.
External links
Community content is available under
CC-BY-SA
unless otherwise noted.