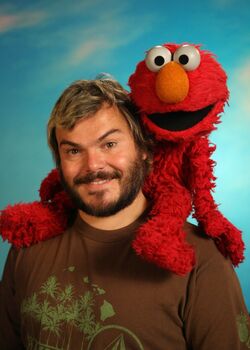 Jack Black (b. 1969) is an actor, comedian and musician, known for his work in films and as half of the comedy rock duo Tenacious D.
In 2008, Black guest starred on Sesame Street Season 39, appearing in Word of the Day segments to demonstrate "Octagon" and "Disguise" with Elmo and in a Backstage with Elmo segment for Sesamestreet.org. For the word "disguise," Black "wore" an elaborate chicken costume (which was a refurbished version of the Humongous Chicken), lending his own voice to the puppet.
He also makes an unbilled cameo appearance in the 2011 film The Muppets.
"The Jack Black in the movie was a horrible Hollywood ***hole. It was hard to do that. I didn't want to be an ***hole. Then I was worried because I took my boys to see the premiere. I had to warn them. It's weird. You don't want to take your kids to see you in a movie. It does a number on their heads because then they're all of a sudden sharing Daddy with a bunch of people in the theater.[1]"
In 1994, early in his career, he played the bully Slip in the Creature Shop-effects film The Neverending Story III.
Black's film credits range from smaller parts in Waterworld, Mars Attacks!, and The Cable Guy (with Jim Carrey) to leading roles in Shallow Hal, Orange County, The School of Rock, Kung Fu Panda, Tropic Thunder (with Ben Stiller and Robert Downey, Jr.), Nacho Libre, Danny Roane: First Time Director, and Peter Jackson's remake of King Kong (as impresario Carl Denham).
On television, Black starred on a Tenacious D series and has guest starred on The X-Files, Picket Fences, Community, Will & Grace, Crank Yankers, The Office and The Simpsons.
He is married to Tanya Haden, an additional puppeteer for The Muppets.
Sources
External links
Community content is available under
CC-BY-SA
unless otherwise noted.