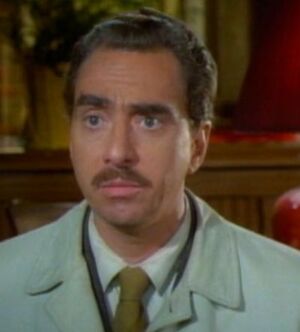 Jack Dodson (1931-1994) was a character actor, known for his soft voice and typically mild demeanor. A one-time appearance on The Andy Griffith Show as an insurance agent led to Dodson's best known role: meek, pedantic county clerk Howard Sprague on the same series from 1966 to 1968. He continued the role on Mayberry RFD (1968-1971).
In a Sesame Street cartoon insert seen as early as 1973, Dodson lent his voice to a man discussing the uses of the letter U. (First: Episode 0416)
A familiar television presence, especially in sitcoms, Dodson appeared on Car 54, Where Are You?, CPO Sharkey (with Don Rickles), The Fugitive, Room 222, Maude, Welcome Back, Kotter, Benson, Newhart, Growing Pains, and more. He made multiple guest appearances on Barney Miller (notably as a man who murders his barber), Happy Days (thrice as Ralph Malph's dad) and was a regular on the one-season All's Fair (1976-1977, as bungling Senator Joplin) and the even shorter-lived sitcoms In the Beginning (1978, as the monsignor) and Phyl and Mikhy (1980, as Truck Morley; the series focused on a Russian track star and was canceled due to the 1980 Olympics boycott).
Remaining active through the 80s and early 90s, Dodson reprised Howard Sprague for the TV movie Return to Mayberry (1986) and an episode of It's Gary Shandling's Show (1990) and reunited with Andy Griffith as a defendant on Matlock (1989). He made four appearances on Mr. Belvedere, recurred on St. Elsewhere (1984-1988, as hospital board member Judge Farnham), and his final role was a running part on the WWII series Homefront (1992-1993, as radio station manager Mr. Melon)
External links