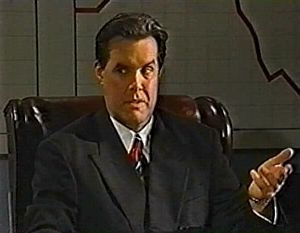 Jack Gilpin (b. 1951) is an actor who appeared in three episodes of Aliens in the Family, in the occasional recurring role of boss Mortimer P. Bellamy.
Gilpin had a recurring role during the first two seasons of Kate & Allie (with Susan Saint James and Jane Curtin) as neighbor Roger. He also huest starred on The Equalizer, Law & Order (several episodes as defense attorney Axtell), New York Undercover, 30 Rock, The Good Wife, and Madam Secretary.
Film credits include Funny Farm (with Chevy Chase), The Dream Team, Quiz Show (with Liam Neeson), Quick Change (with Geena Davis), The Juror, 21, Adventureland, and Trouble with the Curve (with Clint Eastwood and John Goodman). On Broadway, he played John Lithgow's lover in Beyond Therapy and Bishop How and others in the 2002 revival of The Elephant Man.
Aliens Episodes
External links