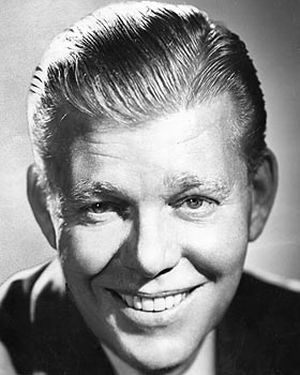 Jack Lescoulie (1912-1987) was a radio and television personality, best remembered today for his stint as one of the early co-hosts of Today, from the show's premiere in 1952 through 1961 and again from summer 1962-1967. He was at the anchor desk with Dave Garroway when Jim Henson made his Today show debut on April 10, 1961, performing "Yes, We Have No Bananas" with Kermit the Frog and Chicken Liver.
Lescoulie's Today duties ranged from announcing the show's title to covering sports and light features. In the latter capacity, on the January 30, 1963 broadcast, he presented a segment on men's fashions, assisted by guests Jim Henson (modeling a coat with a removable collar) and Cleveland Amory, as well as co-anchors Hugh Downs and Frank Blair.
The son of vaudevillian parents, Lescoulie performed in the family act as a child, and later studied acting and entered radio as an announcer and also became an early disc jockey on Los Angeles station KFWB (owned by Warner Bros.) In 1937, with comedy writer Nat Hiken, he created a morning series called The Grouch Club (no relation, outside of temperament) which depicted scripted complaints about every day life, delivered by Lescoulie as "Grouchmaster" and later joined by a small stable of actors. A short-lived series of Warner Bros. short films followed.
Lescoulie was also known for his impersonation of Jack Benny, which he put to use on radio (including The Joe Penner Show in 1937 and a 1941 dramatized biography on Benny's own show), as well as several cartoon shorts, including the Merrie Melodies Daffy Duck and the Dinosaur (1939, as Caspar Caveman) and Malibu Beach Party (1940, as a direct Benny caricature).
During WWII, Lescoulie was an Army Air Forces combat reporter. Postwar, he settled in New York, where he became an all-night disc jockey. He soon became well-known as a personality in his own right, to the point where he appeared as himself in a 1948 Boston Blackie episode (where criminals use his audience request show to send signals). The same year, radio horror writer Wyllis Cooper featured Lescoulie in his anthology series Quiet Please! in an episode about an all-night disc jockey and the strange occurrences he encounters (with Lescoulie as the station's eerie newsman). He worked with Cooper again on Quiet Please and in an early television play, "The Bellhop's Story" (in 1949 and 1950, on two different anthologies) before he was hired for Today. Concurrent with Today, he also announced for Jackie Gleason (including The Honeymooners) and was very briefly a host of The Tonight Show in 1957 (after Steve Allen's departure, when it was reformatted as Tonight! America After Dark).
External links
Community content is available under
CC-BY-SA
unless otherwise noted.