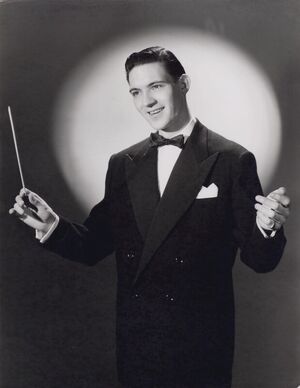 Jack Parnell (1923-2010) served as the conductor for The Muppet Show orchestra for the entire run of the series. A longtime drummer and part of the "big band" movement in England in the 1940s, Parnell set up his own group, the Jack Parnell Orchestra, in 1951. In 1956, he was hired by Lord Lew Grade as musical director for the ATV broadcasting company.
Parnell worked on dozens of shows, including a series spotlighting Tom Jones, in addition to The Muppet Show. The conductor also takes credit for the appearance of Buddy Rich on The Muppet Show:
I got Buddy Rich on the Muppets -- he wanted to be on the show. I remember going to Jim Henson saying, 'Hey, you ought to get the greatest drummer in the world -- Buddy Rich.' He said, 'Who? Never heard of him.' I said, 'He's the greatest thing you ever heard,' he said, 'All right then' and we got him, just like that. I think Jim was kidding me when he said 'Who?'[1]
Parnell died after a long battle with cancer on August 8, 2010.
Sources